Date Published: 06/05/2021
ARCHIVED

- 66 municipalities in the Andalusia region remain confined from May 6 for a further week
11 municipalities in the eight provinces of the Andalucía region must also limit non-essential activity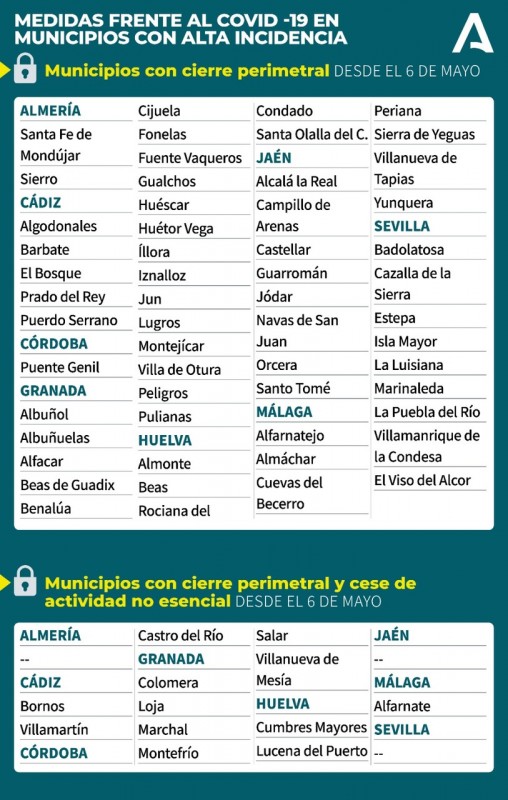 From 00.00 hours on Thursday, May 6, a total of 66 municipalities in the Andalucía region must maintain a perimeter closure, 11 of them also suspending all non-essential activity, due to the fact that when the latest data was revised on Wednesday, they all reported a rate of between 500 and 1,000 cases of coronavirus per 100,000 inhabitants during the last 14 day period, way above the level at which freedom of movement is considered to be acceptable in order to reduce the spread of coronavirus.
These decisions, known to be highly unpopular, are only taken with the full agreement of the territorial public health alert committee from the eight provinces.
However, the positive news is that last week the municipal border closure was applied to 94 areas rather than the 66 of this week, so there is a marked improvement in the situation.
The distribution list of the closures is headed up by Granada, which has 24 confinements; followed by Seville with nine; Jaén and Málaga with eight; Cádiz with seven; Huelva with six; and Almería and Córdoba with two each.
Province of Almería; Santa Fe de Mondújar and Sierro
Province of Cádiz; Algodonales, Barbate, El Bosque, Prado del Rey and Puerto Serrano
Province of Córdoba; Puente Genil
Province of Granada; Albuñol, Albuñuelas Alfacar, Beas de Guadix, Benalúa, Cijuela, Fonelas, Fuente Vaqueros, Gualchos, Huéscar, Huétor Vega, Íllora, Iznalloz, Jun, Lugros, Montejícar, Villa de Otura, Peligros and Pulianas
Province of Huelva; Almonte, Beas, Rociana del Condado and Santa Olalla del Cala.
Province of Jaén; Alcalá la Real, Campillo de Arenas, Castellar, Guarromán, Jódar, Navas de San Juan, Orcera and Santo Tomé
Province of Malaga; Alfarnatejo, Almáchar, Cuevas del Becerro, Periana, Sierra de Yeguas, Villanueva de Tapias and Yunquera
Province of Seville; Badolatosa, Cazalla de la Sierra, Estepa, Isla Mayor, La Luisiana, Marinaleda, La Puebla del Río, Villamanrique de la Condesa and El Viso del Alcor.
Another 13 towns with less than 1,500 inhabitants - Fuente Obejuna, Fuente Tójar and Villanueva del Duque in Córdoba; Pampaneira in Granada; Santa Ana la Real, Galaroza, Cañaveral de León and Chucena in Huelva; Arroyo del Ojanco, Frailes, Hinojares, Sabiote and Villarrodrigo in Jaén - will not have an enforced perimeter closure despite exceeding 500 cases per 100,000 inhabitants over 14 days due to the low number of inhabitants and the perceived lower risk.
The municipal border enclosures are for one week.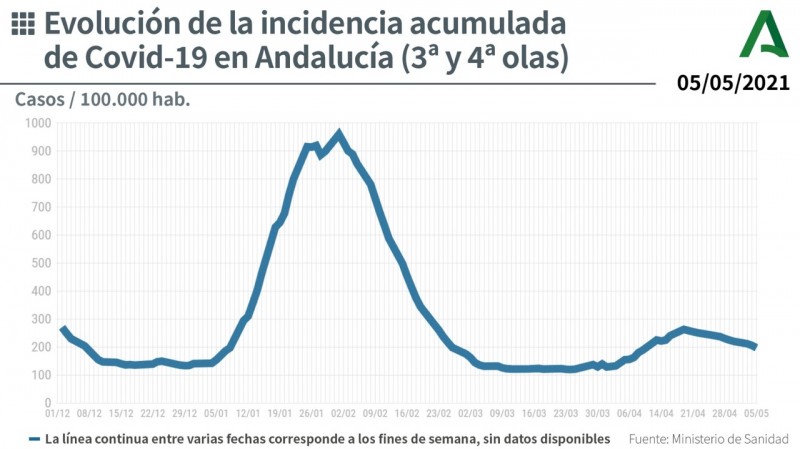 The epidemiological situation is gradually improving in the region as the vaccination campaign rolls-out; Click for the latest data relating to Thursday May 6

article_detail
Contact Murcia Today: Editorial 966 260 896 / Office 968 018 268